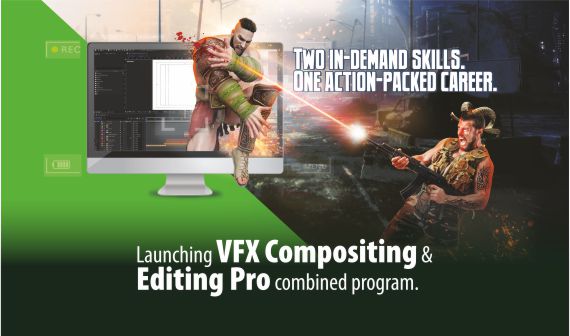 Arena Animation –India's premiere Media and Entertainment Training Institute offers power packed programs that help shape a Student Creative Career. Arena Animation Sayajigunj Located in vadodara one of Best and No 1 training Institute in Gujarat andwest Zone For Animation –Vfx and Gaming courses which caters need of student to become Professional In Animation Film making – Vfx Film making and Gaming courses in vadodara .
The world of visual effects relies on the wizardry of VFX Compositors & Video Editors. From Spiderman jumping across buildings to Baahubali fighting an entire army, everything is the magic of post-production, of which Compositing and Editing are the two most important aspects.
The Indian Animation & VFX industry is estimated to reach ` 151.80 billion in 2023.The Media & Entertainment industry is also expected to provide 65 lakh jobs by 2022.*
VFX Compositors are responsible for photo-realistic output by seamlessly integrating live action footage & computer graphics 2D and / or 3D, special effects. Video Editing requires visual aesthetic, a sense of pacing to draw out the emotion of the story, and an attention to detail. The artistic skills required for the role of VFX Compositor and Video Editor is the understanding of the elements of composition, lighting and shadow and colour. Therefore, Arena Animation has introduced the VFX Compositing & Editing Program.
The Vfx Compositing and Editing program Gives students better understanding about the concepts and fundamentals required for 3d Visual Effects Compositing and Video Editing.It helps students demonstrate the VFX pre-production process of Animatics and 3D Previsualization (Previz)It helps them learn and demonstrate the VFX process of Roto, Paint, Roto-prep, Keying, Matchmoving, Live Action Matte Painting & CompositingIt makes students understand and utilize the VFX Compositing workflow using industry-relevant software – Nuke, Silhouette & 3D EqualizerIt helps them learn and understand the Grammar of the edit to demonstrate Video Editing skills using Adobe Premiere / Final Cut Pro.It teaches students the skills of Colour Grading for Web Series, Commercial Ads, TV & Films.
The Student will learn the Following software's :-
– Adobe Photoshop
– Final Draft
– Adobe Audition and adobe Premiere pro
– Adobe After Effects
– iclone
– silhouette
– 3d Equalizer
– Final cut pro
The Course will give Opportunities to the Students of Vadodara who want to make Vfx Career with professional environment –technology and proper dedicated institution that really caters the demand of 3d Visual Effects Artist required by industry.
After the Completion of the Course the students are eligible with multiple job opportunities and profiles available in Vfx Industry and they can choose from it such as :-Previz Artist-Compositor-Roto artist-3D tracking Artist-Paint artist-Roto –prep Artist-Matte Paint Artist-MatchMove Artist-Video Editor-Motion Graphics Designer&Colour Grading Artist.
The program opens doors to multiple career avenues in many industries such as Advertising –Retail- Animation and Film Vfx Studios- Media and Entertainment industry – Digital Advertising and Many More.
Arena Animation Sayajigunj – India's premiere Media and Entertainment training institute. We offers power-packed courses  that help shape a student's creative career. We trains students in industry-relevant, employment-oriented skills through advanced tools.