Animation Software that the Aspiring Animators Should Consider Learning
Is there a must-learn software that will help you create the highest quality animation? Of course there is more than one. But the real question is, which software you would be most comfortable with. There are many options out there, but given the time and energy being invested in learning a software, choose the one that will give you an edge over others. Achieve mastery in that tool.
For those who are considering working on animation software, the top four contenders are Autodesk Maya, Autodesk 3ds Max, Blender, and Houdini.
While the first two are advanced software used by professionals, Blender is free and perhaps the best choice for a beginner. Netflix's 'Next Gen' was created in Blender and to quote the director Joe Ksander: "Artists, not tools, yo."
If you wish to make a career in the animation industry, you may have to use the software that is being used in the studio you join. In such cases, knowing the fundamentals of one software can come handy as the workflow is almost the same across all. Flexibility can help you a long way. Below is a list of popular animation software, and why you should consider learning them.
Modeling, Animation, Rigging & Simulation
Autodesk Maya
Autodesk Maya is the most commonly used animation software! The latest versions have brought in huge improvements. While Maya is an ecosystem, its UI setups can be divided into Modeling, Rigging, Animation, FX, and Rendering. If you choose this software, you get access to plugins, scripts, learning materials, and tons of materials online as large and small studios across the world have been using this software for years now.
Contrary to the belief that Maya is hard, it isn't. It takes a while to learn, but once you get the hang of it, you can work faster. Thorough knowledge of Maya could be your first step to a career in animation, game development or VFX.
Autodesk 3ds Max
It is an out-of-the-box software for poly modelling. It gives you a more direct and in-control feeling. As compared to Maya, 3ds Max is said to be more user-friendly. It is widely used in the creation of commercials and games than movies. A lot of indie studios are opting for 3ds Max rather than Maya.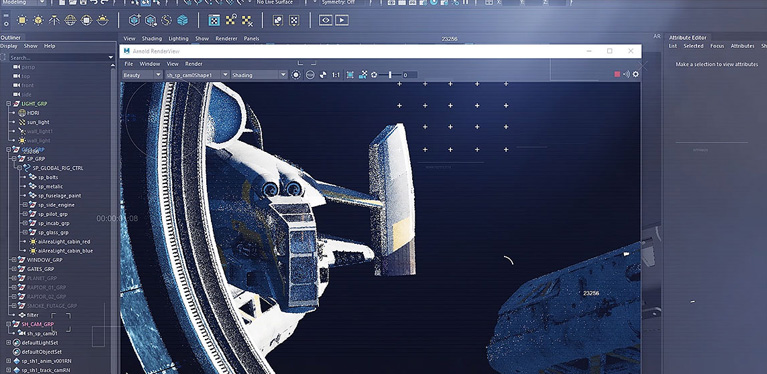 Houdini
Houdini comes into the picture if budget is a concern. Maya is expensive than Houdini. However Houdini has an edge over Maya for dynamic simulations and time efficiency. It has been used for movies like Pacific Rim and the Harry Potter series.
Blender
It is an open source software. If you are a beginner, Blender is a good place to start. It supports asll aspects of the 3D pipeline including modeling, rigging, animation, simulation, rendering, compositing, and video editing.
Compositing
Nuke is the industrial standard for compositing. It is versatile, customisable, and user friendly. It comes with hundreds of creative nodes including rotoscope and vector paint tools that allow you to master digital compositing. The deep image compositing tools help you to work with images of various opacity, colour and camera-relative depth. The machine learning tools save your time, especially when creating sequence-specific effects. You will not need to explore others if you master this node-based software.
Rendering
Arnold is an advanced renderer and is used for feature-length animation and visual effects. It is capable of great photorealistic renders. Arnold's plug-ins are available for Maya, 3ds Max and Houdini.
If you are looking for a single solution when it comes to animation software, the best consideration would be Autodesk Maya as most studios are interested in hiring professionals with expertise in this software. Once you know Maya, you can adapt to any program within a short period of time.