Introduction to VFX
VFX refers to the procedure of creating imagery using live action captured with film making. Visual effects deal with the consolidation of real-life footage and computer-generated imagery (CGI) to make situations, which looks sensible; however, would be risky, costly, unrealistic, tiresome or challenging to shoot on film. Visual effects created with the help of software are available for the movie makers, thanks to the development of cost-effective and simple to use computer software programs.
In movies, everything is possible and nothing is impossible. Dinosaurs roam the Earth, the world comes to an end, mice get adopted by humans, a boy and a tiger are lost at sea and apes take over the planet. Humans battle alien races from lands far far away. Such is the magic of cinema, which is possible through special effects or visual effects (VFX) artists.
Computer generated effects aren't just for futuristic movies and superhero films anymore. They're everywhere. Switch on your TV and a CG effect is probably hidden in one of the movie scenes or advertisements you're watching. Visual effects (VFX) is not meant to be noticeable, and that takes some serious talent and hard work.
VFX Industry :
Indian Animation & VFX industry is expected to grow to Rs. 11,360 crore by 2020.The film and television space play a vital role in boosting the industry. With the emergence of newer gadgets, the gaming industry has also boomed beyond boundaries. Still, more improved growth rate is expected in the next couple of years.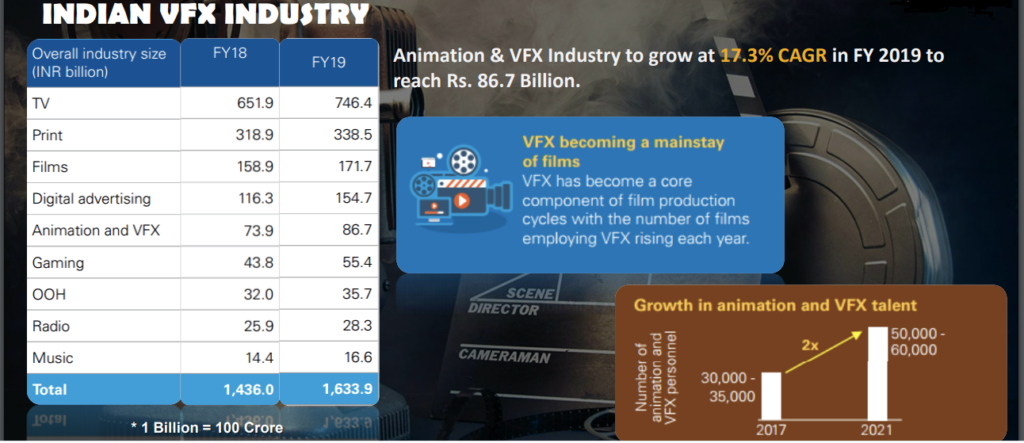 Evergreen Career in VFX :
A career in VFX is today a rewarding and creatively satisfying option for young minds and the job opportunities in the VFX industry are booming. However, while this success, and projected growth of the industry, has a lot of aspiring VFX artists excited.
One can begin their career as a visual artist mainly in the below industries.
TV channels/ Production Houses
VFX studios
Gaming Industry
Media and Advertising
Freelancer
Pay Scale  for VFX Artist :
As a fresher, you can expect to earn around Rs.25,000-35,000 and once you gain adequate experience, anything from a lakh to a couple of lakhs and more is yours for the asking. And if you can't decide whether to take on freelance projects or a full-time job, remember that freelancers are often paid more since they work on contract-based jobs.
Do you wish to be a part of the ever-evolving VFX world? The VFX industry in India is thriving and the VFX career path promises a whole bunch of career options for you – explore our  Institute of Animation & VFX courses that can help you achieve your ambitions.
Arena Animation Sayajigunj Gujarat's Number 1 institute of Vfx Training established since 23 years of Excellence in education .Arena Animation's VFX Prime is a comprehensive program that trains students end-to-end in all aspects of visual effects to make them job-ready VFX professional also trains on the latest technologies and tools used in the Visual Effects industry.