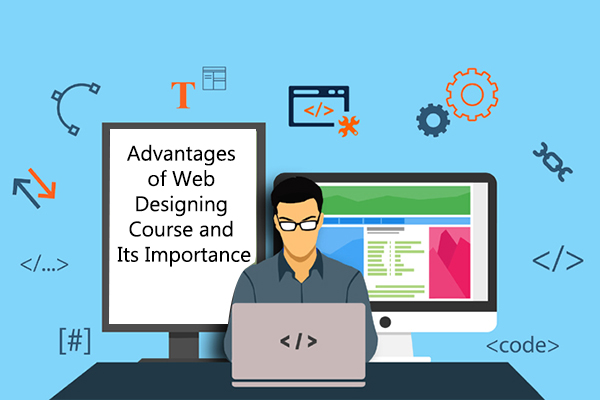 Web Designing Course
Designing a website is not so simple as it looks. It requires a lot of knowledge about the field among which the clarity of the basics is important.

Web designing and development is tremendous in demand these days due to the introduction of e-commerce. Nowadays every company is trying their best to move their base to the web. Several companies only run online, and they always need a web designer to enhance their web page. If you do have the talent, then you should consider this as a career path. The very first step is to find the right help, which is by joining a right web designing course. The benefits of taking up web designing are:
Benefits of Opting for a Web Designing
1. Web designing is a different career path. You will get to create new pages or recreate new pages and designs of the company website almost now and then. That is why a number of companies these days look forward to having web designers to create intriguing websites for them.
2. These days new technologies are coming in this designing world, and it means you will be redesigning the web pages you had designed with the old technology. You will always have something new to do and a project in hand. Also, every company these days has their website, which means they always need web designers to help them upgrade. This shows that if you have excellent skills, then you will never run out of work.
3. To design the web page in a specific way, you always have to put in your creativity into it too. Only a web designer knows that what will look good on the web page. It gives you the scope to put out your talent in the right place. Use your skill and creativity as you want to enhance the entire look of the website.
4. Like we stated earlier, new websites are coming in action almost now and then. This increases the need for web designers. You will be in demand for a long time because the internet is here to stay and grow.
This above are the few reasons to consider web designing as a career path.
Click on Below Video: Web Design Basics
How Students can Progress in this Field
Many institutes that can provide web designing course. With the help of such institutes, a student would be able to learn not only the basics but also the complex algorithms which are involved in creating intriguing websites.
Choosing a web designing course at Arena sayajigunj training institute can help you out in this field. This course will help you to learn and understand the professional approach to work for a great company website, which can be profitable and creating an image for you. The support we provide in such fields will allow you to stand in front of clients with confidence.
Click on Below Video: Is Web Design Still a Good Career?
Why is Web Designing so Important?
There are countless reasons why web designing is important for every web page; here are some of the reasons.
1. Appearance
If the appearance of the website is not too good, then not many people would want to visit the website. A web designer should bring the best for the web page when it comes to the design of the page. There should be animation and graphic involved to attract the viewers.
2. Brand Consistency
If the company logo is used in brochures, business cards then the logo needs to be on the website too. Not just on the website but as an integral part of it so that the viewers can recognise the brand.
3. SEO (Search Engine Optimization)
SEO can help you to bring popularity in the right way. If you work towards improving the SEO of web page, then your website surely become popular in just some time. But this is what web designers are for they know the tricks to include HTML based texts, which can help you to increase your search engine placement of your company on big names like Google, Bing or Yahoo.
4. Content and Blogs
The website content is as relevant as the other factors. When we talk about content, there are things like customer communications, additional details about the website and so many things. The text should be put out attractively on the web page so that the customers can read it easily. Also, you must continually update the webpage with blogs. If you are the web designers, then you need to design a good and handy blog page too wherein posting from the backend is easy as well as finding good blogs for the customers. If the website is cluttered, then no one would want to spend more than a minute on the page.
Click on Below Video: Career in Web Designing & Development