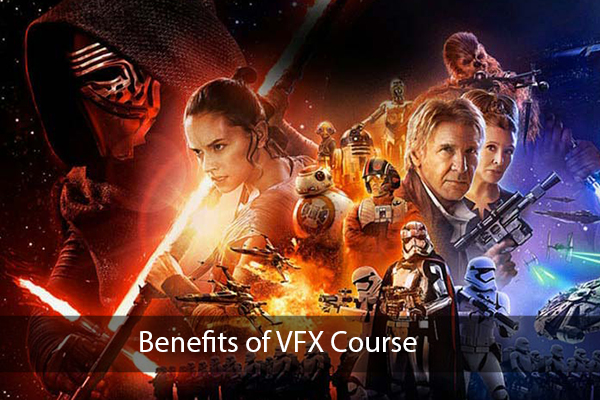 Basic of Visual Effect (VFX)
India is well positioned in the global VFX industry. VFX is used to represent any imagery created or enhanced for a film or other moving media that cannot be performed during live action shooting. It can also be termed as CGI (Computer Generated Imagery) where effects are made on computers with the help of different VFX software.
Some of the best examples of visual effect in films are The Lord of the Rings, Avatar and Skyfall. The films mentioned above along with the additions of Life of Pi and Spiderman 3 all owe their success to the amazingly talented VFX artists in India, who made sure that the effects in these films looked realistic and believable to the audiences.
Click on Below Video: VFX Core Concept
Types of VFX Course
1. VFX Prime
VFX Prime is a career course that will teach you in all aspects of visual effects. VFX course aids you to create special effects for games, films, TV programs, advertisements, digital media, etc. You can learn 3D modeling, digital sculpting, rotoscopy, character animation, and more.
Job Opportunities:
Illustrator

Graphic Designer

Design Specialist

Storyboard Artist

Audio Editor

Video Editor

3D Animator

Rigging Artist

Character Animator

Texturing Artist

Lighting Artist

Rendering Artist

Compositor

Visualizer

VFX Artist

Roto & Paint Artist

Matchmove Artist

Tracking Artist
2. VFX Filmmaking
From VFX design and pre-vizto the creation of a digital photo-realistic fantasy world as per the vision of a Film director, Visual effects have become an important part of the filmmaking process. The study of visual effects is a combination of art and technology. You learn the art of VFX Design as well as the latest VFX techniques using the state-of-the-art 3D and VFX software used in this industry.
Click on Below Video: Diploma in VFX, Filmmaking, Photography, CG Animation & Digital Art
Graphic Designer

Storyboard Artist

Video Editor

3D Modeler

3D Animator

Rigging Artist

Texturing Artist

Lighting Artist

Rendering Artist

Compositor

VFX Designer

3D Asset Artist

Matchmoving Artist

VFX Compositor

Rotomation Artist

Roto & Roto-Prep Artist
3. VFX Pro
Bollywood and Hollywood films use VFX to produce special effects and realistic environments in films. Through visual effects, the designers can make interesting and imaginary things happen in films such as flying objects, bomb blasts, natural disasters, superpowers, etc. which is impossible or difficult to shoot in real life.
Job Opportunities:
Animation film

Production studios

Television channels

Television production houses

Ad production houses

Gaming companies

VFX Compositor

Roto Artist

Matte painter

Pre-comp Artist

Tracking Artist

VFX Artist
Click on Below Video: Choosing a Career in Visual Effects
Benefits of VFX Courses at Arena Animation
VFX industry is growing at such a rapid and enormous speed it is the best way you can boost your career. VFX has huge scope in the entertainment industry. There are many benefits of doing visual effects course from an expert. If you want to get success in this field, then join arena animation in Vadodara.
In VFX course, you can learn all the techniques of VFX using Pixar RenderMan, Arnold Renderer, Golaem Crowd, Nuke, Nukex and Mocha.

Specialization in your chosen course and create a professional 3D portfolio.

Practical application using the latest software/tools of VFX and compositing.

Learn advanced compositing tools, time remapping and bounding boxes, matte painting, match-moving and camera tracking.

Professional work portfolio development.

Learn with projects and practice sessions.

Industry interaction and workshops.