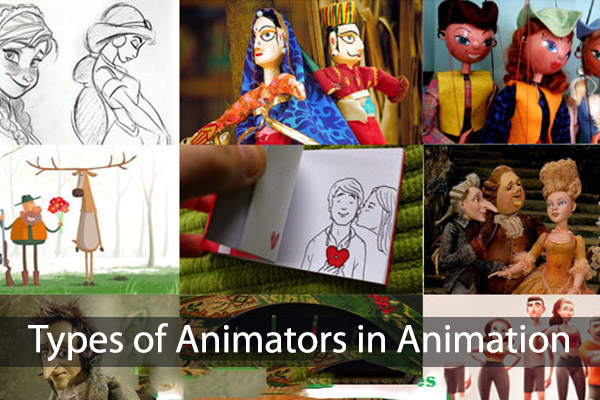 Types of Animators in Animation
Animation is a cool industry and responsible for making the magic happens. In this arena blog, we describe various types of animators who work for creating the magical movement in the animation and there are many software applications that helps you to create this animation.
Click on Below Video: Simple Animation Using After Effect
Animators in Animation
An animator is a designer or artists who create multiple images, known as frames to form the illusion of movement called animation when displayed image frame by frame in the sequence. Animators can work in a variety of disciplines including film, television, and video games.
Animation is almost related to filmmaking and like filmmaking is hugely labour-intensive, which means that most significant works require the collaboration of various types of animators. The methods of creating the frames or image for an animation piece depend on the animator's artistic styles and their field. Below are seven types of animators you can expect to find in an animation studio.
Click on Below Video: Career in Animation
7 Types of Animators in Animation
1. Character Artists
Character animation is the process of bringing a character to life using software such as Maya, Flash, Lightwave and other available programs.
A character animator develops characters and proper body movements to tell a story, be it for films, television, or video games.
Click on below video: How to do Character Animation
2. 3D Modellers Artists
3D modellers artists create computer models of a particular object from every angle so that the viewer can understand the object in a better way.
3D Modellers required in all types of industries including film studios, production studios, graphic design firms, game design companies, software firms, and product design firms.
3. Motion Graphics Artists
Motion graphics artists are responsible for artistic process at various stages. These artists create 2D & 3D animated images to portray motion.
Motion graphics designer works in various mediums of media like movies, ads, TV, music videos.
4. Compositing Artists
A compositing artist is one of the most important players for the post-production process, who gives finishing touches to the design.
Their job is to creatively combine all the components received from various teams into the final output.
Compositing artists use software such as After Effects, Nuke or others to provide the final result.
Click on Below Video: Compositing a 3D Animation
5. Lighting Artists
A lighting artist works with the lighting department to create the correct light and shadow effects to make a scene flawless and realistic.
Lighting artists work for gaming companies, production studios, advertising companies, animation studios, graphics and web design firms.
6. Rigging Artists
A rigging artist needs precision and an eye for detail. Artist is responsible for adding skins and bones to an animated character. Rigging artist has to work in sync with animators and modellers to develop a technique to solve production challenges and make-believe character movements possible.
7. Storyboard Artists
Storyboard artists are responsible for providing a visual representation of a film/sequence by drawing frame by frame sketches by hand or on a computer. Artists have to present the action in a series of scenes, which allows advertisers, filmmakers and producers to evaluate the plan before the start of production. Storyboard artists work with television, advertisements, films, animation studios, gaming studios and in the advertising industry.
If you are interested in this field of animation then join today Animation Prime Course at Arena Sayajigunj animation institute in Vadodara that trains students for careers in various fields of animation.