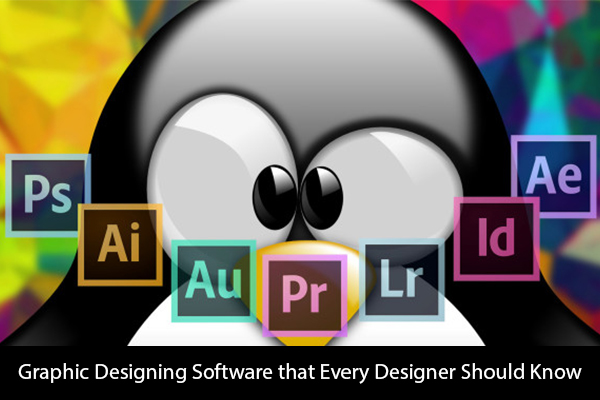 Graphic Designing Software
Becoming a graphic designer can be an exciting career opportunity if you have a good eye for visual aesthetics. Graphic designers always need to think creatively and come up with some innovative concepts.
If you don't know about design software, don't worry! Arena sayajigunj Graphic Design training institute will help you get familiar with this Graphic designing software, and before you know it. We offer you graphic design training have specialized courses that are designed to help students to develop their talents in all of the areas needed to excel in the graphic field. These five major graphic designing software that every designer should know.
Click on Below Video: Graphic Design: Adobe Photoshop vs. Illustrator vs. Indesign
5 Graphic Designing Software
If you are a newbie in the graphic designing field, check out below 5 graphic designing software that will render a professional look to your graphics.
1. Adobe Photoshop
Adobe Photoshop is one of the go-to tools that designers use to manipulate photos and to create graphics. It contains many editing features for photos, such as editing, re-sizing, cropping and colour-correcting. In Photoshop designers can also create and edit the graphics. Unlike the simple editing features on your smartphone camera, photoshop is a professional level program used for high-quality productions.
Click here to Download: Adobe Photoshop
2. Adobe Indesign
Adobe InDesign is one of the most important software for graphic designers to know inside and out. This software is becoming the standard desktop publishing software that designers are expected to use. Designers use it for editing and creating all types of visual materials. Using InDesign, you can design everything from a small postcard or invitation to posters, magazines, brochures and books.
Click here to download: Adobe Indesign
3. Adobe Illustrator
This Software is a sister program for Photoshop. While Photoshop is used for manipulating photos and the Illustrator is used for creating the vector images, which are high-quality images that can be scaled without losing the quality. Designers use Illustrator to create diagrams, logos, illustrations, graphs or charts. Creating these illustrations requires an understanding of concepts like layers, effects, paths, text, groups and color.
Click here to download: Adobe Illustrator
4. CSS, HTML and Javascript
Understanding CSS, HTML and Javascript can be an essential skill for Graphic Designers. These are programming languages that are behind web content. Knowing how to code in these languages allows you to modify type, manipulate images, and work with animations. If the notion of coding scares you, then don't worry, there are many tools available that help you design web content without having full knowledge of coding.
Click on Below Video: 8 Tips to become a better Graphic Designer
5. CorelDraw
CorelDraw is a vector graphics editor, that is hands down one of the most popular Industry Standard editors. CorelDraw has cool, productive functions and such an ease of use that no other vector editor can match up to. The software tools give you full control so you can get fast and dynamic effects.
With tools like Smear, Twirl, Repel and Attract – vector object editing was never easy to use. The Alignment guide enables you to position objects as per requirement. CorelDraw software works smoothly with large files in Corel PhotoPaint, making it a must-have in the graphic design software list.
Click here to download: CorelDraw