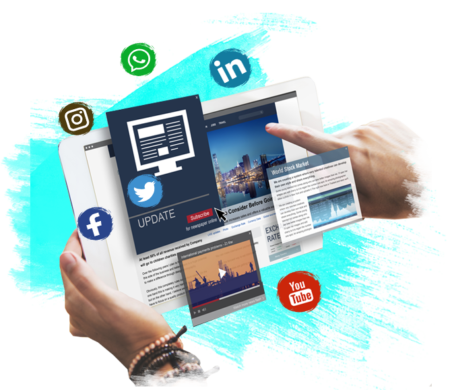 Today, everything is progressing towards digital. Companies across the world and across industries are taking the digital route, opening up a great number of career opportunities. While the projected job growth for the graphic design industry is predicted to grow 7% from 2015 to 2022*.
There are also a number of trends that are expected to take over the digital world. 2019 will be all about delivering on user experience: web design trends will prioritize speed and mobile design, eye-catching simple designs with asymmetrical layouts, immersive video backgrounds, and more.
The Print industry grew from INR303 billion to INR331 billion in 2018 and is expected to reach INR369 billion in 2020 growing at a CAGR of 5.7 per cent. It is projected that the industry of graphic designing will continuously grow 7% more from 2015 to 2022 The major turnover will possibly happen for graphic designers in the publishing, newspaper, and book sector.
Graphic design is a career for innovators. Designers need the ability to think laterally and consider new ways to address problems and turn them into designs which will be recognised and remembered. There are a wide range of career opportunities across key areas including graphics, motion graphics, advertising and illustration.
Whether it's through a design agency or in-house, many organisations are increasingly turning to designers to help their brand and messages stand out. Graphic designers are in demand as companies are increasingly looking to expand and improve the visual impact of their digital marketing, social media and communications platforms. Though it is among the less established career choices in India, graphic design is attracting more and more interest with a growing number of companies offering design services.
Trained and experienced designers are required for a huge variety of products and activities, including websites, infographics, advertising, books, magazines, posters, computer games, product packaging, exhibitions and displays, corporate communications and corporate identity.
There are excellent career prospects globally for graduates in a range of design jobs in areas such as:
-Graphic design
– Advertising
-Designing for environments and three
-dimensional spaces
– Branding and identity
– Illustration Printmaking
– Animation
– Motion graphics
– Interactive design and app development
– Typography
-Editorial and digital publishing
To be a good designer, it is important to have an eye for detail and an interest in what catches people's attention. You need to be prepared to go the extra mile to understand a business need and the benefits that a good design can bring to a company or organisation's ability to communicate a message or raise their profile.
It is important to have a talent for design and be comfortable using a range of design software packages, such as InDesign, CorelDRAW, Illustrator and Photoshop.
Visual Content Development For Print & Social Media is a comprehensive program that trains students in all aspects of Graphic Design, Print Design etc. which makes you a complete design professional. This program exposes you to the fundamentals, techniques and trends in print & publishing required to succeed in the industry.
It uses industry-endorsed techniques to make the student an in demand new media creative professional for rich multimedia content, visually appealing websites, logos for advertisements, concepts of digital graphics, image editing for print & publishing, etc.