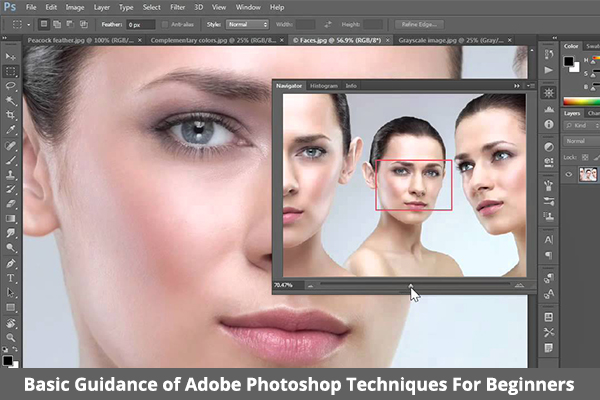 Photoshop is the most powerful photo editing adobe software and good choice for animators and designers, having a great variety of tool to create astonishing graphics and making the image look amazing. This blog post trains you the basic photoshop techniques for learners. If you are beginner then its take time and guidance to even learn the basics photoshop techniques. Below we introduce you to the photoshop work area and shows you how to open and save your images, zoom in and zoom out, and undo the mistakes.
Click on below Video: Basics of Photoshop
Learn the Basics of Photoshop Techniques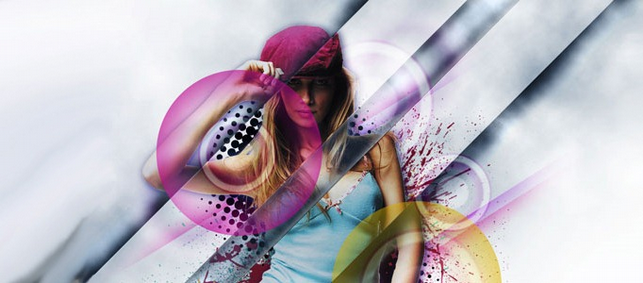 1. Open images – To open and create images
In the menu bar, Select File > Open – to open existing images.
In the menu bar, Select File > New – to create a new image from scratch. Select a document preset. Customize the preset by typing in the values like height and width.
2. Get familiar with the Work Area – The Interface
1. Menu Bar
Display the File, Image, Edit and other menus that give you access to a variety of commands, panels and adjustments.
2. Options Bar – Under the Menu Bar
Shows the options for the tool you are currently working with.
3. Tools Panel – Left Side
Contains tools for creating artwork and images editing. Similar tools are classified together. You can access similar tools in a group by clicking and holding a tool in the panel.
4. Panels – Right Side
Include Layers, Color, Properties and other panels that contain a variety of controls for working with images. You can find the complete list of panels under the window menu.
5. Document Window – Middle Side
Displays the file you are currently operating on. Multiple open documents display in tabs in the Document window.
Close the Image: Choose File > Close.
3. Learn How to Zoom and Pan
Change the view of an image – To zoom in and Zoom out and pan around
1. The Zoom tool is placed in the Tools panel. Change from Zoom Into Out in the options bar.
2. The Hand tool also placed in the Tools panel, allows you to pan around a large or zoomed-in image.
4. Undo a Command
Undo single step or multiple steps and use the History panel.
1. To undo the last work you did, Select Edit > Undo or press Control+Z (Windows) or Command+Z (macOS).
2. To redo the previous action you did, select Edit > Redo or again press Control+Z (Windows) or Command+Z (macOS).
To undo multiple times, Select edit > Step backwards multiple times or choose an action in the history panel.
Click on below Video: 10 Things Photoshop Beginners want to Know
5. Save Work
Use the Save commands – To save an image
Choose File > Save As.
Saving in Photoshop format (.psd) retain layers, type and other editable Photoshop properties. It's best to save the image in PSD format.
Saving in PNG (.png) or JPEG (.jpg) format will save as a standard image file that can be opened, shared by other programs and posted online. When you are finished with editing, save a copy in one of these formats too.
For students who are interested to learn more on basic of photoshop techniques in vadodara and would like to experience and practice on a more professional level, please sign up today for our Arena Sayajigunj Animation Courses.