Scribble Effect
The Scribble effect is a simple animation that can be done in Premiere Pro or After Effects Software. Different software shows a different look and workflow. The animated scribble effect technique is a perfect example of an easy way to create dynamic and handmade graphic elements. In this Arena blogs post, we are going to take a look on a few simple steps to create a scribble effect animation in after effect software and you can add eye-catching graphics to your video.
Click on below Video: Animated Scribble Effect in After Effects 2018-2019
3 Steps to Create a Scribble Effect Animation in After Effects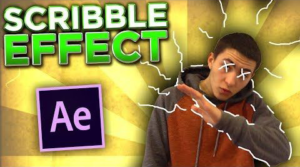 Step 1: Arrange the Workspace
First, add some cartoonish flames that will come off the back of a race car. After that add the flames using the brush tool, which you can find it in the tools panel or by using the CMD (Mac) or CTRL (PC) + B Keyword shortcut.
This brush tool only works on the layer panel by double-clicking on the layer – You can't click directly on the composition panel.
Click on below Video: Brush Tools in After Effect
Step 2: Prepare the Brush
Select the brush tool, both the paint and brush panels will become visible. These both panels offer a variety of options. The paint panel allows you to change the opacity, diameter, flow, color, blend mode and duration. Clicking on diameter button will bring you to the brushes panel, where you can specify the diameter, roundness, hardness, angle and spacing of brush. Even you can save the brush settings for future use.
One of the most important properties is the duration section of paint panel. This is a fast-moving clip, to animate flames as quickly and frenetically as possible. Due to this reason, you have to change the duration to "Single Frame." If you want something a bit more subdued or clunky, then change the duration to "Custom" and then manually type in whatever frame rate you want. With both the workspace and brush ready, now it's time to use the scribble effect animation inside adobe after effect.
Step 3: Scribble Effect Animation
To start Scribble Effect animation lets bring playhead to the first frame of the clip in the timeline. Using the brush tool directly on the layer panel, draw flames on the first frame. It's not as simple as drawing the same flames for every frame. This particular clip is two seconds in length, shot at 25 fps, so if you want flames throughout the entire clip, then you need to draw these same flames 50 times. If you are going to create an animation that changes over time, it's imperative to know the length of a clip so you can make subtle changes.
Knowing a few shortcuts will save your lots of time when creating a frame-by-frame animation. To quickly navigate by individual frames in After Effects, use the Page Up/Down keys. To resize the diameter of the brush, hold the Command (Mac) or Control (PC) key while you click and drag up or down.
Click on below video: Animated Music Video Scribble Effect in After Effects!
General Tips to Spice Up Scribble Animation
Trace an object.

Break up the lines. Have a smaller line or a dot follow a bigger line.

Draw an object that interacts/reacts with your footage.

Use a Pen Tablet for smoother strokes.

Mix and match brush sizes.
Click here to download: Adobe After Effect
For students who are interested to learn more on scribble animation in after effect and would like to experience more on a professional level, please sign up today for our Animation Course in Vadodara.