In Today's world, Media & Entertainment Industry is growing by CAGR 14% per annum & Rs.3.07 Trillion in FY 2024. The Indian Animation And Vfx Industry is expected to Grow by CAGR 15.50% in FY 2023 & Rs 151.80 billion in FY 2023. Currently  Media & Entertainment Industry growth in Jobs Including Direct/Indirect/Induced Employment  is 35-40 Lakhs Jobs available & 65 Lakhs Jobs till 2022 in India.
Animation & VFX Industry Grow By 21% to Reach INR 8,040 Crore In 2019, and Expected To Grow to INR 11,360 Crore By 2020.
The main growth factors in the field of  Animation & VFX are defined below.
TV driving animation demand. Broadcasters have been commissioning new IPs, in turn, are driving other revenues streams such as licensing and merchandising.
Increasing demand from digital. The advent of OTT video platforms, access to 4G and falling data costs has resulted in rising demand for live sports, events, reality programs, kids show, movies, TV series, original content and user uploaded videos on digital.
VFX becoming a mainstay of films. VFX has become a core component of film production cycles with the number of films employing VFX rising each year.
Today the following are the technologies which are rapidly growing with the utilization of Animation & VFX.
   Augmented Reality (AR)
  Virtual Reality (VR)
  Mixed Reality (MR)
  Artificial Intelligence (AI)
  Internet of Things (IoT)
  Personal Assistant Apps
  Data & Machine Learning
  ChatBots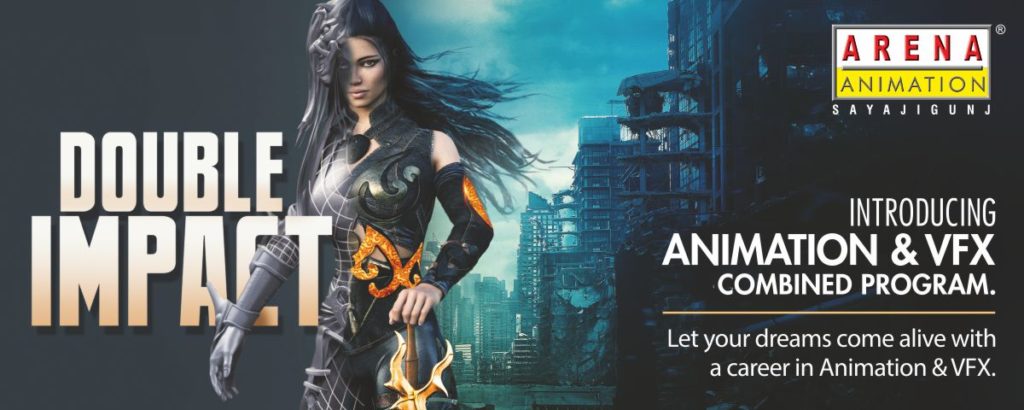 To cater the need of the employment opportunities available in the market , Arena Animation (A pioneer in Animation Education ) is launching Animation – VFX dual domain Program.
 Let your dreams come alive with a career in Animation & VFX
About Course :
Arena Animation -Vfx Prime is a dual domain program that train students end to-end in all aspects of Animation & visual effects to make them job-ready professional. It gives a thorough grounding in all the fundamentals & techniques of VFX , 2D and 3D Animation, Typography, Digital filmmaking, FX & Dynamics & simulation.
It also trains on the latest technologies and tools used in the Animation and Visual Effects industry.
Course Highlights :
Learn and have a better understanding about the concepts and fundamentals required for VFX Compositing and Video Editing.
Demonstrate the VFX pre-production process of Animatics and 3D Previsualization (Previz).
Learn and demonstrate the VFX process of Roto, Paint, Roto-prep, Keying, Matchmoving, Live Action Matte Painting & Compositing
Understand and utilize the VFX Compositing workflow using industry relevant Softwares – Nuke, Silhouette & 3D Equalizer.
Learn and understand the Grammar of the edit to demonstrate Video Editing skills using Adobe Premier / Final Cut Pro.
Learn the skills of Color Grading for Web Series, Commercial Ads, TV & Films.
Trending Animation Careers In India
3D Looks to Retro & Vintage  – Use of lush lighting effects and pixelated digital elements serve to create places and characters that feel both retro and sci-fi.
HyperSurrealism – The effect of hyper-surreal animation relies on combining photo-realistic elements with fantastical imagery to create dreamlike worlds and action.
High Contrast Cel Animation – Vibrant, contrasting colors combined with an angular design are used to give the animation a simplified, almost cel-style look
Dynamic Function Animation in Apps – Instead of using static images or just text, many apps in 2018 are using functional animation that keeps a user's attention with a vibrant, interesting user interface.
2D and 3D, Together – By giving 3D objects a 2D look, animators are able to make expressive, illustrative elements that immediately attract a viewer's attention while delivering information in a clear and colorful way.
Resurgence of 2D Animation in Marketing – A big trend in animation these days is having the ability to whip up simple, attention-grabbing 2D animation videos for use in mobile and web advertisement.
Trending Vfx Careers In India
Layout Artist – Usually part of the pre-production and previsualization process, a layout artist, as the name suggests, lays the foundations for how the visuals will eventually look.
Compositing Artist – Well done visual effects merge seamlessly with the rest of the background, and don't distract the viewing experience at all.
Lighting Artist – Lighting is one of the most crucial aspects of any film production – live action or animated.
Rendering Artist – When it comes to VFX career opportunities in India, rendering artists are in high demand across major VFX studios and production houses.
Roto Artist – A rotoscoping artist or roto artist has the difficult and imperative task of tracing all those areas of a frame where CG meets real life, in order to provide compositors with a framework from which to begin their work.
Based on the current trend in the world of animators & vfx artist, the future looks bright. The demand for animators & vfx artist are very high in fields such as mobile gaming as well as app development. These fields will continue to grow in future as well.
While the scope of 3d animation & vfx  is great in India, there are a number of things that you need to keep in mind. There is no shortcut to success and hard work always pays off.
Eligibility criteria to join :
You can join Animation & VFX course after 10th / 12th / Graduation.
10+2 students (Any stream)
Under Graduates – Fine Arts, Commerce, Science or Arts students (Any stream)
Students with a creative bent of mind and have Passion for design and Gaming
Our institute provide 1.5 Year program in Animation & VFX combined course in vadodara.