Amid Covid pandemic lockdown and disruption, Arena Animation Sayajigunj campuses, closed the final placement figures at 51 Students Placement till January 2021 end.  The achievement comes at a time once industry saw mass layoffs and offer revokes. AY 2020-21 began with a bang with elite recruiters in the Graphic Designing, Motion Graphics, 3D Animation and 3D Designing.
Arena Animation Sayajigunj officials told the institution is looking forward to an aggressive hiring of 3750+ job openings for season ahead. Prospective admission seekers are requested and suggested not to lose a year and opt for admissions at the earliest to be in line with the current academic year.
Our Student Success Story – Atit Patel
Atit Patel comes from a small town called Halol after his initial attempt in the field of Engineering he realized that This is not He can Pursue as a Career Making Choice and Started Looking for Other Options. He always had an Interest in Watching Movies and was Curious about its Process keeping this in Mind He Decided to Pursue his Studies of Editing and Compositing with Arena Animation Sayajigunj.
He had no Designing study background But that wasn't going to stop Atit. As he learned new skills, his confidence grew. Today, he is honing Editing – Compositing skills. He was Groomed and Trained from the Center for a good Job Opportunity as He was selected as Motion Graphics Artist in BYJU's in Bengaluru and Continued to Excel and Perform as He Considered this as his dream Job and Now He Is Settled and Growing Steadily with his Profile and work. Genuine transformation isn't easy, but Atit Patel shows us it's possible. He Always Consider Arena Animation Sayajigunj as a Guide and Turning Point of His Career and Life.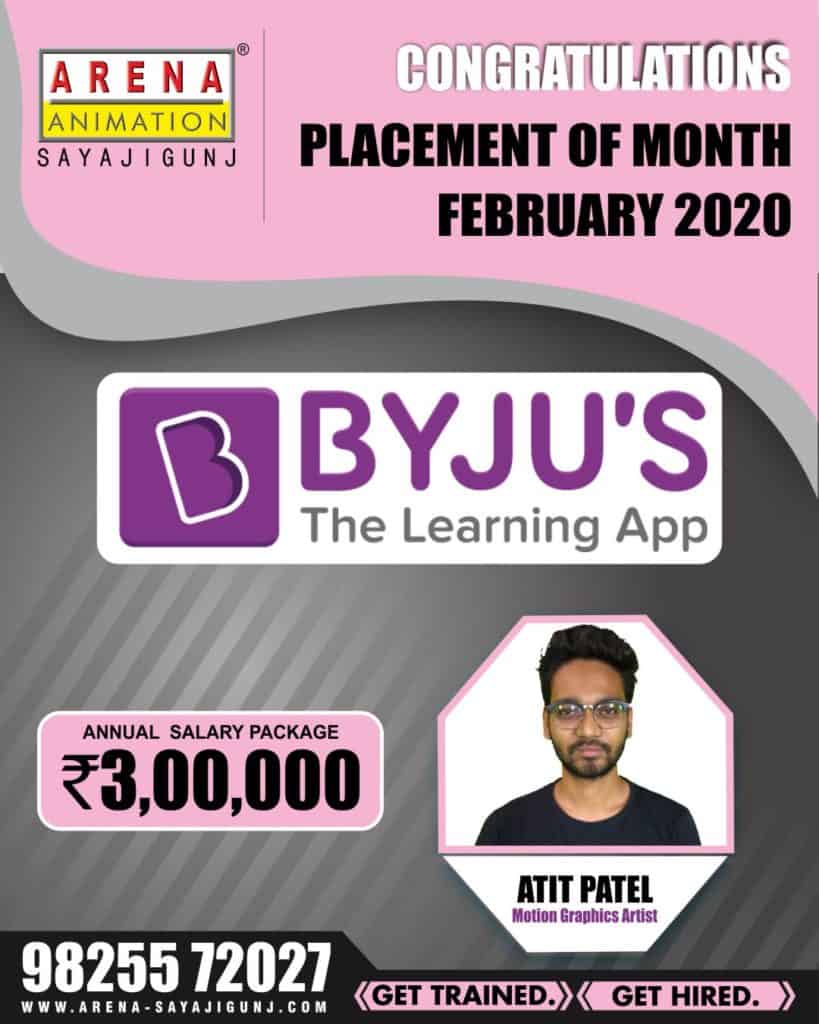 Recruiter Testimonials
We have sourced some very good candidates from the Arena Animation Sayajigunj. We were amazed by the immense talent and skills these students possess. Not only the students we were very impressed by the quality of education and training the institute has provided them. The students were confident and very well prepared for the interviews. We wish to congratulate all the students for their future.   — DipakPillai (Think Tank Advertising)
Our association with the Arena Animation Sayajigunj has been very fruitful. We have been able to pick out some very capable and confident students for our company. We are very impressed by the hard work that has been done on these students by the teachers. We would love to come back here for placements again. –ShwetaUpadhyay (Dream Foot Studio)
For the admissions process call at 98255 72027.